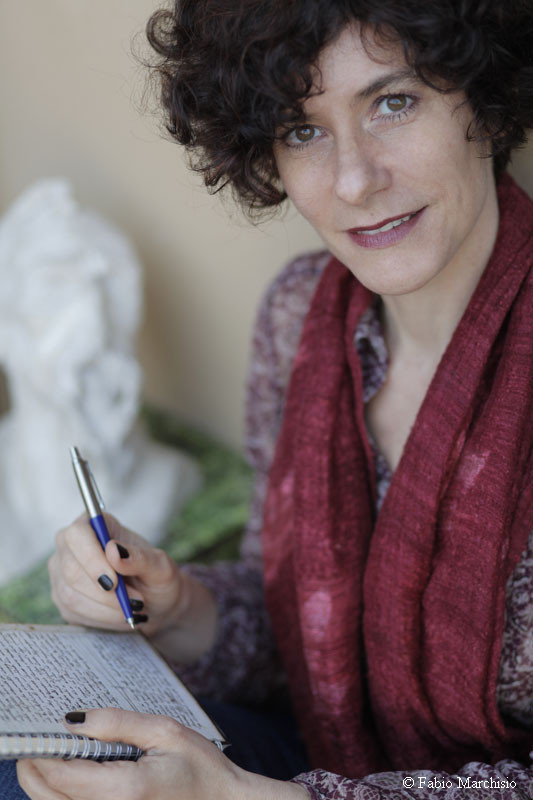 Books
---
Essays


Anne Frank, Diario (Mondadori, 2019)


Bloc-notes d'un contre-révolutionnaire : un reportage poétique (Editions Kimé, 2013)


Jean Améry. Il Risentimento come morale (Castelvecchi 2016, I ed. Franco Angeli, 2002)


The Document within the Walls. The Romance of Bassani (Troubador Publishing, 1999, II ed. 2004)
Novels


Una gallina in cattive acque (Terre di mezzo, 2023) NEW JUNE 2023


Il filo della speranza (Settenove, 2021)


Una gallina in mongolfiera (Terre di mezzo, 2020)


Una gallina nello zaino (Terre di mezzo, 2019)


Così chiamò l'Eterno (Stampa Alternativa, 2018)


Gli amici del fiume (San Paolo, 2017)


Il viaggio di Lea (EL Einaudi Ragazzi, 2016) Out of stock

El viaje de Lea (Ediciones SM, 2018)

Lea'nın Yolculuğu (Hep Kitap, 2020)


La porta di Anne (Mondadori, 2016) Out of stock

La puerta de Ana (Ediciones Castillo, 2017)


Il Decamerino (Mondadori, 2015) Out of stock


Il taccuino di Simone Weil (rueBallu, 2014)
Short Stories


Il soffio millenario (in Aria, Mediagraf, 2012)


Quarto di luna (in Miele e latte sotto la tua lingua, Compagnia delle lettere, 2011)


Diario di Milaidis de los Angeles Casanova Carmina (in Le Notti, Empirìa, 2003)
Surrealism


Il pescespada e la serratura (Beisler Editore, 2007)


L'alfabeto dimezzato (Beisler Editore, 2007)
Poems and artist books


Baci (Ed. Corsare, 2021)


Le chat âme (éditions MeMo, 2010)


La Terre Respire (éditions MeMo, 2008)

La Terra respira (Lapis, 2021)


Quattro Stagioni (in Annuario di poesia italiana 2003, Stango, 2002)
Tales


Lupo di Farina (Lapis, 2023) NEW APRIL 2023


Non temere (Lapis, 2023) NEW MARCH 2023


In quel baule (Bohem Press, 2022) NEW SEPTEMBER 2022


Voglio il mio mostro (Lapis, 2022)


Alza la testa (Gribaudo, 2022)


Non siamo angeli (Settenove, 2022)


Le più belle fiabe regionali italiane (Gribaudo, 2021)


Le più belle storie della tradizione ebraica (Gribaudo, 2021)


Avanti tutta! (Ed. Corsare, 2020)

Cu toată viteza înainte! (Signatura, 2022)


Molto molto orso (Bohem Press, 2020)


Mi chiamo Nako (Ed. Paoline, 2020)


La strana storia di Cappuccetto Blu (Settenove, 2020)


Mamma cerca casa (Ed. Paoline, 2019)


Ada al contrario (Settenove, 2019)


La stella che non brilla (Gribaudo, 2019)


Elia il camminatore (San Paolo, 2018)


La tigre di Anatolio (Beisler editore, 2018)


I tre porcellini d'India (ELI edizioni, 2017)


Se fossi un uccellino (ELI edizioni, 2016)


Il pigiama verde (Coccole books, 2016) Out of stock


El vuelo de la familia Knitter (A buen paso, 2016)

Il volo della famiglia Knitter (Bohem Press, 2016)


Je m'appelle Nako (Éditions Le baron perché, 2014) Out of stock


El regalo de la giganta (A buen paso, 2013)

Il regalo della gigantessa (Buk Buk 2015)

O presente da giganta (MOV palavras 2015)


Le Petit Chaperon bleu (Éditions Le baron perché, 2012) Out of stock

Caperucita Azul (Ediciones Castillo, 2013)


Gli occhiali fantastici (Panini, 2010)


La coda canterina (Topipittori, 2010)


Filastrocca dei sei sensi and L'ode dell'acciuga (in Le più belle filastrocche di tutti i tempi, Liberamente Editore, 2009)


Il cavaliere che pestò la coda al drago (EDT-Giralangolo, 2008)


Aquiles el puntito (Kalandraka, 2006)

Aquiles o puntiño (Kalandraka, 2006)

Aquil·les el puntet (Kalandraka-Hipótesi, 2006)

Aquiles o pontinho (Kalandraka Portugal, 2008)

작은 점 하나 (Hansol Education, 2008)

Achille il puntino (Kalandraka Italia, 2008)


La macchina di Celestino (Lapis, 2006)


Pane e oro (Franco Cosimo Panini, 2004)


Nino Mangialegno (in Parole di legno, Campanotto, 2002)
---
ANNE FRANK, DIARIO
edited by Guia Risari, ill. G. Tomai
Mondadori, Milano, 2019
(ISBN : 9788804718659, pp. 480, € 18)

In the Netherlands under the Nazi occupation the 13-year-old Anne Frank begins to tell her everyday life in an intimate and personal diary: it is 1942 and the anti-Semitic laws also affect her family, who to escape deportation flees to a secret flat, where it survives thanks to the complicity of friends and acquaintances. Here Anne, who dreams of becoming a journalist or writer, never stops writing. When in 1944 the Dutch government launches an appeal to collect testimonies and war documents, Anne stars to rework her diary, in view of a possible publication: she imagines it becoming a book entitled "The house on the back" but unfortunately does not survive long enough long to see her dream come true. The "Diary", instead, has come down to us, and to many readers in the world: today in an edition more than ever faithful to the spontaneity of the original drafts, enriched by the illustrations of Giulia Tomai.
---
BLOC-NOTES D'UN CONTRE-RÉVOLUTIONNAIRE : UN REPORTAGE POÉTIQUE
by Guia Risari, in AA. VV, "Un ciel de sang et de cendres : Piotr Rawicz et la solitude du témoin" Editions Kimé, Paris, 2013 (pp. 131-135)
(ISBN : 978-2-84174-609-5, pp. 480, € 29)

Piotr Rawicz, a survivor of the Lvov ghetto and of the camps of Auschwitz and Leitmeritz, is the author of one book on the destruction of the Eastern Europe Jews, Blood from the Sky. A fascinating story for the power of his narrative, the violent beauty of his writing, his defiance of convention and any standard, including the testimony. Because, according to the cruel and poetic terms that are specific to Rawicz's style, he recalls the assassination of a people, the chaotic flight of the survivors, but also to the difficulty of speaking of a tragedy, but in an oblique and indirect way. This book will (re)discover a long-forgotten man and a work through texts of critics and literary scholars who believe that the Blood from the Sky, in its splendor, is one of the great texts of the XXth century and through the testimony of those who knew Rawicz, an attractive and desperate character. Here are also collected some of his scattered and unpublished writings.

---

II ed. Castelvecchi 2016



I ed. Franco Angeli 2002

JEAN AMÉRY. IL RISENTIMENTO COME MORALE
Castelvecchi, Roma, 2016
(ISBN 978-8869446078, Collana Le Navi, pp. 180, € 19,50)


I ed. - out of stock - Franco Angeli, Milano, 2002
(ISBN 88-464-3402-1, Collana Filosofia, Cod. 495.130, pp.160, € 16,50)

1st prize "Parola di Donna" 2003
Fiorino d'argento, "Premio Firenze" 2002
Award "Parlamento Europeo Anguillara Sabazia Città d'Arte" 2002
1st prize "Maestrale San Marco" 2002
1st prize "Il viaggio infinito" 2002

Jean Améry, "non-non-Jewish" writer and essayist, was a particularly sharp and sensitive Shoà witness. He is especially known for three essays of clear philosophical inspiration - At the Mind's Limits (Schocken Books, New York, 1986), On Aging: Revolt and Resignation (Indiana University Press, Bloomington, 1994), On Suicide: a discourse on voluntary death (Indiana University Press, Bloomington, 1999) - and for the anti-Flaubert novel Charles Bovary, country doctor.
This essay introduces Améry's work and deepens into some topics of Western thought - aging, suicide, the conception of time and the individual - but it addresses as well the issues of the Shoà, witnessing and literary creation, proposing a philosophical revaluation of resentment, as in re-sentir, the perceptive faculty and reflexive consciousness, "the emotional source of any authentic moral, which has always been that of the defeated" (Améry).

---

I ed., 1999



II ed., 2004

THE DOCUMENT WITHIN THE WALLS. THE ROMANCE OF BASSANI
Troubador Publishing, Leics, 1999, 2nd ed. 2004
(ISBN 1 899293 66 3, Troubador Italian Studies, £9.99)

Giorgio Bassani is an Italian-Jewish writer from Ferrara, famous mainly for The Garden of the Finzi-Contini, The Golden-Rimmed Eye Glasses and other novels, brought together in Il Romanzo di Ferrara (1980). In this monumental work, Bassani describes the life of the Italian Jews under Fascism.
Bassani may be seen not just as a fictional writer, but as a witness of persecution of Jews under Fascism; his Romance is not so much a novel but a multifaceted document on Jewish life in the Peninsula.
This volume takes into account a close reading of Bassani, literary theories on witnessing the Shoà, and the historical debate on Italian discriminatory politics. The book is thus both literary criticism and an analysis of anti-Semitism and Jewish assimilation in Italy. This second edition has been extensively revised to take into account recent opinions on the work of Bassani.
Copyright © Troubador Publishing 1999, 2004


Contents (I ed., II ed.)
The publisher
---
UNA GALLINA IN CATTIVE ACQUE
Guia Risari, ill. A.L. Cantone
Terre di mezzo, 2023
(ISBN 979-12-5996-151-8, pp. 112, € 12,00)
NEW JUNE 2023


Carmen the talking hen is feeling a little sad, but she brightens up when she participates in an animal skills competition, which she wins alongside the pig Polo and the goat Moira. The three animals and their friends are rewarded with a cruise on La Fenice. However, during a training session in open waters…
A novel about friendship, adventure, challenges, and discoveries, filled with humor and tenderness.
---
IL FILO DELLA SPERANZA
Guia Risari
Settenove, Cagli, 2021
(ISBN 9788890860584, pp. 128, € 14,00)

Inspired by a true story, the novel tells the great women's mobilization of 1968 in Santa Caterina Villarmosa, a small town in Sicily, where embroiderers opposed the intermediaries who underpaid them.
The women's protest led to the approval, in 1973, of a law to protect home work.
---
UNA GALLINA IN MONGOLFIERA
Guia Risari, ill. A.L. Cantone
Terre di mezzo, 2020
(ISBN 978-88-6189-602-4, pp. 112, € 12,00)


Orazio's best friend does not believe that the hen Carmen is intelligent, much less that she knows how to speak (but perhaps he is only jealous of the attentions that Orazio reserves for her…). Carmen then tries to get noticed by him with a series of strange and dangerous activities, including flying in a hot air balloon. The adventure will be a failure, but it will prove to be the key to happiness.
---
UNA GALLINA NELLO ZAINO
Guia Risari, ill. A.L. Cantone
Terre di mezzo, 2019
(ISBN 978-88-6189-521-8, pp. 96, € 12,00)

During a day-trip to a farm, young Orazio meets a hen that convinces him to take her with him to the city. Carmen will prove to be an exceptional creature: able to read, write, draw, solve mathematical problems and much more. And Orazio, as timid and rambling as he was, will turn into a sociable and courageous child, ready for a thousand new adventures.
---
COSÌ CHIAMÒ L'ETERNO
Guia Risari
Stampa Alternativa, 2018
(ISBN 978-88-6222-634-9, pp. 200, € 16,00)

In Genesis we witness the creation of the world, of Adam and Eve, of Lucifer and of the angels and the expulsion from Paradise.
But what happens if the Divine Plan is the result of a series of approximations? If the sacredness of Creation is substituted by a craftsmanship? If the Eternal is bored and suffers from loneliness? If the angelic nature is overwhelmed by eros? If the Ineffable has no sense of time and is easily distracted?
Meanwhile, his creatures escape the dangers, frolic, defy the limits and find themselves confined to the Earth.
The Immane must admit that matter, with its charge of imperfection and chaos, has won. He therefore gives detailed instructions to the seraphims, and takes a moment, which, from the point of view of Eternity, is not known how long it will last. In this colourful and amused fresco, little pearls of wisdom speak of creation, love, curiosity, finitude, justice and power.
---
GLI AMICI DEL FIUME
Guia Risari, ill. G. Rossi
San Paolo, Milano, 2017
(ISBN 978-8821599729, pp. 96, € 12,00)


On the banks of a great river, there live three friends: Adamo, a shy and curious hedgehog; Nina, a fierce duck who cannot swim nor fly; Taddeo, a hare convinced to be a carnivore. They are small, imaginative and a little cranky.

A joyful novel about the wonder, the fear, the pleasure of being together. A simple and deep story; a tribute to The Wind in the Willows by Kenneth Grahame, to the river, to its creatures.
---
IL VIAGGIO DI LEA
Guia Risari, ill. I. Bruno
EL Einaudi Ragazzi, San Dorligo della Valle, 2016
(ISBN 978-88-6656-330-3, pp. 224, € 14,00)
SHORT-LISTED STREGA RAGAZZE E RAGAZZI AWARD 2016 Category +11
Out of stock

A dense, visionary novel, full of parallel adventures; a story meant for wandering, getting lost and finding the way. Full of humor, nuances, poetry and deep questions, to which we all must answer.

Why do we live? Why do people die? What is the sense of pain? Why do growing up and loving cause so much pain?

EL VIAJE DE LEA
Guia Risari, ill. I. Bruno
transl. Sergio Martínez
Ediciones SM, Col del Valle, México, 2018
(ISBN 9786072427464, pp. 208, $ 144,00)


LEA'NIN YOLCULUĞU
Guia Risari, ill. I. Bruno
transl. Eren Cendey
Hep Kitap, İstanbul, Türkiye, 2020
(ISBN 9786051923789, pp. 228, TL 28)

---
LA PORTA DI ANNE
Guia Risari, ill. A. Floris
Mondadori, Segrate, 2016
(ISBN 978-88-04-65888-7, Contemporanea, pp. 176, € 16,00)
(ISBN 978-88-04-67381-1, Oscar Junior, genn. 2017, pp. 192, € 9,00)
SHORT-LISTED LETTERATURA RAGAZZI - CENTO AWARD 2016
Out of stock

When she woke up, Anne had the sensation that this would be a special day. She felt an unmotivated restlessness, the irresistible urge to move and jump, do somersaults and sing out. She wanted to run to the door of the shelter, she often stared with a mixture of gratitude and hope, and beat her palms on the door to be open. But that was not allowed, she knew it very well.

It is August 1944. At the first light of dawn, in the streets of Amsterdam, there is a house where everyone dreams. Peter dreams of green hills to cross on horseback. Auguste dreams of a fur. Otto dreams of ships to sail any ocean. Margot dreams of swimming in the pool. Fritz dreams of the woman he loves. Edith dreams of being a little girl again. Hermann dreams of walking in a meadow. Anne dreams of becoming a writer.

But the greatest dream, for all of them, is freedom: they have been holing up in a hiding for over two years to escape persecution against Jews and now expect the Allies to erase from Holland and the world the nightmare of Nazism. But in this story there is also the dream of the SS lieutenant Karl Josef Silberbauer: he wants to capture eight people hidden in an old building. And that morning, unfortunately, his dream becomes reality.

For the first time, a new point of view on the life of Anne Frank and the occupants of the Secret Annex, in the hours before their arrest.

LA PUERTA DE ANA
Guia Risari, ill. A. Floris
Ediciones Castillo, México D.F., 2017
(ISBN 978-607-621-699-6, Castillo de la lectura, Serie Roja, 12+ años, pp. 192)

---
IL DECAMERINO
Guia Risari, ill. E. Macellari
Mondadori, Segrate, 2015
(ISBN 978-88-04-65563-3, Primi Junior, pp. 128, € 9,50)
Out of stock

Ten children, tired of the usual stories told to them by adults, meet on the top of a hill to tell each other some tales they invented for the occasion. Every child evokes surprising and mysterious worlds, funny, strange or melancholic characters. Wrapped in that magical atmosphere, their tales become authentic and moving.
---
IL TACCUINO DI SIMONE WEIL
Guia Risari, ill. P. Valentinis
rueBallu, Palermo, 2014
(ISBN 978-88-95689-15-9, Jeunesse ottopiù, n. 6, pp. 148, € 22,00)
SPECIAL MENTION PREMIO LAURA ORVIETO 2013-2015

A philosophic novel that retraces - as a notebook - the path of an extraordinary thinker, who lived between the two World Wars and was a witness to the injustice of her time.

"«Why? What?». Non era facile rispondere, ma ci provavo. Con serietà. Non racconto mai storielle ai bambini, non li tratto mai da piccoli. Non hanno bisogno di bugie. Quelle le scopriranno più avanti nella vita. Si meritano invece tutta la verità e la profondità di cui siamo capaci..."
---
SHORT STORIES



IL SOFFIO MILLENARIO
in Aria, Mediagraf, Noventa Padovana, 2012
(ISBN 978-88-88484-14-3, pp. 198, € 25.00)

Dopo l'acqua, il fuoco e la terra, è la volta dell'aria, l'ultimo dei quattro elementi affrontati dalla rassegna di illustrazione I colori del sacro; degli elementi è il più "leggero" e intangibile proprio per la sua immaterialità. Invisibile e impalpabile, è lo spazio che avvolge l'universo e tutte le cose che vi abitano, l'indefinita linea di confine tra terra e cielo, il punto di contatto tra spiritualità e materia.
(Da "Aria sulla carta... e non solo" di Andrea Nante)
---
QUARTO DI LUNA
Copyright © Guia Risari 2004-2011
in Miele e latte sotto la tua lingua, Compagnia delle lettere, Roma, 2011
(ISBN 978-88-905278-4-5, pp. 192, € 12.00)

Dove si cela la magia dell'eros multietnico?
L'espatrio è lacerazione. Alienazione. Il tuffo in una cultura estranea frantuma tutti i riferimenti abituali, l'identità si sbriciola nel labirinto di nuovi modelli di comportamento.
Per trovare l'equilibrio fra due mondi, il migrante ha estremo bisogno di relazioni, di calore e di affetto.
E così come nel suo modo di comunicare fa capolino la struttura rassicurante della lingua madre, nel suo modo di amare traspare un linguaggio del corpo diverso, straniero.
È questa latenza sensuale la protagonista dei racconti di Miele e latte sotto la tua lingua: in queste pagine autori italiani e migranti ci raccontano la poetica dell'altrove, l'eros tenero o violento, fugace o coniugale, di un Paese sempre più misto, meticcio, multietnico.

---
DIARIO DI MILAIDIS DE LOS ANGELES CASANOVA CARMINA
Copyright © Guia Risari 2003
in Le Notti, Empirìa, Roma, 2003
(ISBN 88-87450-23-4, Euforbia, pp. 176, € 12.50)

My country is the night, says Anna Maria Ortese. The night as solitude and silence which support the concentration and the work of writing, when thought and fantasy, reflection and invention - far from lights and voices of the day - can follow their path and switch on their inner lights. The night as a representation of writing which silences and closes the real voices into the dark in order to tell them.

---
SURREALISM



IL PESCESPADA E LA SERRATURA
100 IPOTESI CONTRO L'IMPOSSIBILE
Guia Risari, ill. F.T. Altan
Beisler Editore, Roma, 2007
(ISBN 978-88-7459-012-4, Il pescespada, pp. 32, € 11,90)

Il pesce spada e la serratura [The swordfish and the lock] is a short surrealistic text starting with a statement: a swordfish cannot look through a key-hole.
A series of explanations to this situation that - we have to admit - results to be rather unpleasant (mainly for the swordfish) are suggested in 100 aphorisms, each time poetic, provocative, detective, romantic, engaged, perfectly rational, all of them, considering the premise, possible.
The aphorisms go wonderfully with the images by Altan who chose and illustrated with humour some of the funniest hypotheses.
The aphorisms are a genre speaking to an adult public. Nonetheless, they represent for children too a source of amusement and arouse their capacity to associate fantastic binomials.

(Suggested age range: from 7 to 107 years)
---
L'ALFABETO DIMEZZATO
STORIE DI COCCODRILLI SCOTTATI E SCIMPANZÉ IN PISCINA
Guia Risari, ill. C. Carrer
Beisler Editore, Roma, 2007
(ISBN 978-88-7459-013-1, Il pescespada, pp. 32, € 11,90)

A special alphabetiser, where simple or composed consonants receive the attention they deserve in the end. B, hard C, sweet C, passing through GL, GN, H and finishing with W, X, Y, Z. Playing with funny alliterations, the author composes 27 surrealistic micro stories, a never naïf divertissement in the tradition of Munari and Scialoja. Illustrated by the witty and imaginative Chiara Carrer.

(Suggested age range: from 7 to 107 years)
---
BACI
Guia Risari, ill. A. Calisi
Ed. Corsare, Perugia, 2021
(ISBN 9788899136697, pp. 40, € 19,00)


The protagonists of this book are kisses, which follow one another in a poetic and original way. Kisses that surprise and cradle, that have the strength of a storm and the kindness of a flower, kisses that envelop and make you discover the universe. A catalog of kisses, because there is not just one kiss, but millions. (For everybody)
---
LE CHAT ÂME
Guia Risari, ill. G. Herbéra
éditions MeMo, Nantes, 2010
(ISBN 978.2.35289.094.2, pp. 48, € 15)

A universal portrait of the cat.

The lyricism of the poem written by Guia Risari finds its match in the beautiful paintings by Ghislaine Herbéra.

Every cat is a soul jumping from life to life...
---
LA TERRE RESPIRE
Guia Risari, ill. A. Sanna
éditions MeMo, Nantes, 2008
(ISBN 978-2-35289-036-2, pp. 36, € 18)

La terre respire

is a hymn to the beauty of the world. One day two brothers hear a heartbeat and throw themselves into an adventure to find its source. They discover that the Earth is big and it shelters as many hearts as destinies...
A sensation of immensity and a very beautiful meeting between the poetic voice of Guia Risari and the artist Alessandro Sanna.

LA TERRA RESPIRA
Guia Risari, ill. A. Sanna
Lapis, Roma, 2021
(ISBN 9788878748156, pp. 36, € 14,50)
---
QUATTRO STAGIONI
Copyright © Guia Risari 2003
in Annuario di poesia italiana 2003, Antonio Stango, Roma, 2002

Twenty-one authors, twenty-one life routes, twenty-one writings different for theme and style. Not a yearbook "of the" poetry, but "of" poetry.
---
LUPO DI FARINA
Guia Risari, ill. A. Coppini
Lapis, Roma, 2023
(ISBN 9788878748866, pp. 32, € 14,50)
NEW APRIL 2023


Flour Wolf is a small and peaceful wolf. He loves to take walks, make new friends, and shape little figurines. The fiercest members of his pack try to turn him into a real wolf, but in the end, they will understand the strength and value of kindness.
A story about the possibility of standing out from the group, not blindly obeying, and being oneself. (From 5 years old)
---
NON TEMERE
Guia Risari, ill. D. Tieni
Lapis, Roma, 2023
(ISBN 9788878749160, pp. 32, € 15,00)
NEW MARCH 2023


A poetic dialogue between an adult and a child about the various elements that make up the universe. An invitation not to be afraid of aspects of nature that mat seem frightening at first, but that actually offer discoveries and pleasures.
An emotional exploration of the world around us, dissipating shadows and illuminating the most benevolent features of nature and existence.
A picture book that leads us to observe what is around us with different, participating and deep eyes.
---
IN QUEL BAULE
Guia Risari, ill. L. Orsolini
Bohem Press, Trieste, 2022
(ISBN 9788832137224, pp. 32, € 16,20)
NEW SEPTEMBER 2022


If you love to play outdoors, what would you do on a rainy day? Would you like to explore a dusty old attic? What if by chance there were a nice mysterious trunk there? What if, by lifting the lid, you would discover a fantastic world? A book about playing, transformations and the imagination that takes you far, but always together.
---
VOGLIO IL MIO MOSTRO
Guia Risari, ill. C. Aran
Lapis, Roma, 2022
(ISBN 9788878748774, pp. 32, € 14,90)


A little girl looses her monster and, desperate, looks for a worthy substitute with her father. They search among the monsters of fruit, vegetables and cheese, among those of old things and even among those of sweets. Nobody seems to be as good as the old monster who, despite the bad temper, is affectionate and unique. That same evening, however...
A tale about the imagination, the desire, the indissoluble ties and a little treasure hunt.
---
ALZA LA TESTA
Guia Risari, ill. P. D'Altan
Gribaudo, Milano, 2022
(ISBN 9788858040027, pp. 48, € 12,90)


Luce is born on the same day that Fascism takes power. Her parents call her Luce so that she could shine in the darkness that is about to engulf Italy, and they raise her by repeating to her: "Raise your head!".
War breaks out and Luce becomes a relay in the service of the Resistance. She risks big and is afraid, but she continues until Liberation and peace.
With an appendix for historical events.
---
NON SIAMO ANGELI
Guia Risari, ill. Alicia Baladan
Settenove, Cagli, 2022
(ISBN 9788898947744, pp. 32, € 18,00)


A child reacts to the naive phrase of a gentleman with a catalogue of decidedly non-angelic children, all passionate about particular things and gifted, in their own way, with superpowers. A story about the diversity and the uniqueness of boys and girls.
---
LE PIÙ BELLE FIABE REGIONALI ITALIANE
Guia Risari, ill. Fabiana Bocchi
(ISBN 9788858038956, pp. 192, € 14,90)

Dull kings, bitter stepmothers, kidnapped princesses, cunning peasants... but also talking animals, ogres, dragons, witches and spells. The Italian regional fairy tales are a dense and multifaceted universe. It is a difficult task to confine a fairy tale in one place: it was born to travel and survives thanks to oral stories. Some stories are found at the same time in many places, the details change, but the structure and the meaning of the fairy tale remain the same. Other stories, on the other hand, seem tenaciously linked to a territory. Each of them tells of Italy, its traditions and its inhabitants.
From Valle d'Aosta to Sicily, twenty fairy tales full of adventure, wonders, mystery and magic.
---
LE PIÙ BELLE STORIE DELLA TRADIZIONE EBRAICA
Guia Risari, ill. Cinzia Ghigliano
Gribaudo, Milano, 2021
(ISBN 9788858029435, pp. 192, € 14,90)

The stories collected here tell the spirit, intelligence, and customs of the Jewish people in a period ranging from Biblical Antiquity to Modern Times. They are universal and evocative stories, full of faith and optimism, of magical and fantastic elements, of questions and answers.
They mainly revolve around man, his relationship with others and with divinity, but they also tell about animals - sometimes wise, sometimes funny - who talk, laugh, dream and, above all, believe.
A colorful and very human set of portraits that make you think, learn and fantasize. A fascinating reading, through which to discover unique customs and ways of thinking. Stories to tell and remember. Because remembering helps to understand.
The future belongs to those who will have the longest memory.
Baal Shem Tov
---
AVANTI TUTTA!
Guia Risari, ill. D.I. Murgia
Ed. Corsare, Perugia, 2020
(ISBN 9788899136598, pp. 40, € 18,00)


On a boring day, a child climbs on stilts and sets off to discover the world, taking with him whoever wants to go with him.
A hymn to friendship, freedom and adventure.

CU TOATĂ VITEZA ÎNAINTE!
Guia Risari, ill. D.I. Murgia
Signatura, Floreşti, 2022
(ISBN 978-606-9071-63-2, pp. 36, lei 59,00)

---
MOLTO MOLTO ORSO
Guia Risari, ill. L. Orsolini
Bohem Press, Trieste, 2020
(ISBN 9788832137118, pp. 32, € 15,50)


Bobo is a simple and affectionate teddy bear who lives with a child, whom he loves very much. The child is named Giacomo. He also loves Bobo, but he would like to have many more toys and playmates and stories and surprises... So one day Bobo, to make his friend Giacomo happy, decides to transform himself into something different. To tell the truth, his disguises, however funny and ingenious, are not always very successful... But, between a laugh and another, Giacomo realizes that he has a very, very special friend.
A funny story about love, play and being yourself.
---
MI CHIAMO NAKO
Guia Risari, ill. P. D'Altan
Ed. Paoline, Milano, 2020
(ISBN 9788831551878, pp. 40, € 14,00)

Nako is a Roma boy who lives, struggles, wants and hopes, like everyone else. His world is that of the large family of nomadic peoples.
Nako tells us about his life, his fears, his dreams.
With evocative words and images, we discover the universe of an ancient and complex culture.
---
LA STRANA STORIA DI CAPPUCCETTO BLU
Guia Risari, ill. C. Pollet
Settenove, Cagli, 2020
(ISBN 9788898947492, pp. 40, € 17,00)

A contemporary and surprising version of the famous fairy tale, in which nothing is as it seems.
Little Blue Hood is not docile nor she lets herself be impressed.
The hood is not red, but blue.
The dense forest is not so menacing (nor forest).
The wolf is not so diabolical nor fierce.
But, most of all, the stories are a path leading from mistrust to friendship.
A beautiful adventure with a courageous protagonist and a very peculiar playmate.
---
MAMMA CERCA CASA
Guia Risari, ill. M. Di Lauro
Ed. Paoline, Milano, 2019
(ISBN 9788831551380, pp. 32, € 14,00)

Mummy is looking for a flat, but the search is anything but easy. Especially since she wouldn't want any home. Mum is looking for a place open to everyone, in a city that can welcome all peoples, with doors that open onto squares where everybody meets and respects each other. It is a dream in which the whole family starts to believe because there are utopias that can become reality. An intense, poetic and essential story, dedicated to those who, even if they do not find, continue to search.
---
ADA AL CONTRARIO
Guia Risari, ill. F. Buonanno
Settenove, Cagli, 2019
(ISBN 9788898947423, pp. 36, € 16,00)

Ada is a little girl who does everything in reverse: she cries, speaks, eats, walks, plays, writes backwards.
But this does not prevent her from being happy and committing herself to making others happy.
A story about the importance of being yourself and accepting yourself in all possible variants.
---
LA STELLA CHE NON BRILLA
Guia Risari, ill. G. Marchegiani
Gribaudo, Milano, 2019
(ISBN 9788858023228, pp. 48, € 12,90)

A little girl, while playing in the attic, finds a small box containing three mysterious objects. It is her grandfather who explains the tragic history of those things, the advent of Fascism and Nazism, the persecution of the Jews, the cruelty of war.
A delicate and at the same time powerful story to tell children about the tragedy of the Shoah through words of hope.
With an appendix of historical and artistic analysis.
---
ELIA IL CAMMINATORE
Guia Risari, ill. G. Rossi
San Paolo, Milano, 2018
(ISBN 9788892214101, pp. 40, € 15,00)

Elia is a tireless walker. His parents cannot always accompany him and he is so shy that at the very thought of inviting someone else he blushes. Little Elia then plans a way to overcome loneliness: he takes with him a series of animals. But very soon Elia has to face reality: every animal must live in a more suitable place and Elia takes courage and invites to walk with him a little girl, even more walker than him.
A book on the need of love and shyness.
---
LA TIGRE DI ANATOLIO
Guia Risari, ill. G. Rossi
Beisler edizioni, Roma, 2018
(ISBN 9788874590575, pp. 64, € 14,00)

Since he was little, Anatolius has experienced an immense passion for tigers. He draws felines, wears striped slippers, roars when he is angry. But the most surprising fact is that his favorite playmate is really a fierce and unpredictable tiger in the flesh, who becomes good and patient next to the child. The tender and surrealistic story of an unusual friendship.
---
I TRE PORCELLINI D'INDIA
Guia Risari, ill. V. Valenza
ELI edizioni, Recanati, 2017
(ISBN 9788846 836397, pp. 32, € 4,90)


A wolf and three guinea pigs who, coming from afar, may not know his terrible secret. Thus, after a series of attempts, traps and blows, the wolf finds himself increasingly skinny. The three Guinea pigs are really tough. And they have no intention of letting him get away with it... An amazing ending, an original and sparkling new version of a classic fairytale loved by everyone.
---
SE FOSSI UN UCCELLINO
Guia Risari, ill. S. Mulazzani
ELI edizioni, Recanati, 2016
(ISBN 9788846 835659, pp. 34, € 4,90)


A little girl follows the tireless path of a bird. From the windowsill to the tree, the roofs, the sky, the sun and back to earth.
The bird is not only an air acrobat, but also a messenger, combining two universes with an invisible ribbon.
---
IL PIGIAMA VERDE
Guia Risari, ill. A. Alemanno
Coccole books, Cosenza, 2016
(ISBN 9788898346622, pp. 32, € 11,50)
Out of stock


Andrea can not stand to get ready for bed. One day he receives from his father the gift of green pyjamas. Not ordinary pyjamas, but an outfit suitable for the most extraordinary adventures one can imagine.
---
EL VUELO DE LA FAMILIA KNITTER
Guia Risari, ill. A. Castagnoli
A Buen Paso, Barcelona, 2016
(ISBN 978-84-944076-9-7, pp. 36, € 16,00)


The Knitter family is quite an average family, it includes a father, a mother, two children, a dog, a cat and a canary. Indeed, quite an ordinary family, that is until their pet canary teaches everyone to fly! Everyone develops his flying style, so much so that when the holidays come around, the whole family decide to fly to its destination: a deserted and paradise like island. The days spent on the island feel like a dream, but every dream has to come to an end, or so says the father. And it is unwillingly that the family prepares to fly back home, although... Is that true that every dream comes to an end?

IL VOLO DELLA FAMIGLIA KNITTER
Guia Risari, ill. A. Castagnoli
Bohem Press, Trieste, 2016
(ISBN 978-88-95818-72-6, pp. 36, € 15,80)

---
JE M'APPELLE NAKO
Guia Risari, ill. M. Dulain
Éditions Le baron perché, Paris, 2014
(ISBN 978-2-36080-099-5, pp. 40, € 16,00)


Nako lives in a house with wheels, along with his fears and dreams. He doesn't care what people call him, he knows he belongs everywhere. Music is part of his life and he wants to be free, just like the horses he loves so much.
A story neither sad nor moralistic, just a fresh approach to a people proud of their history and lifestyle.
---
EL REGALO DE LA GIGANTA
Guia Risari, ill. B. Martín Terceño
A Buen Paso, Barcelona, 2013
(ISBN 978-84-941579-0-5, pp. 48, € 19,00)

Somewhere, in a remote place, there lives a woman so big and powerful that her yawns create the wind, her cries the rain and her laughters infects people.
She is the giantess, a sort of soul of the world, who welcomes everyone: plants, animals, humans. And she knows how to keep the secrets of the most timid.
A poetic song of a universe ruled by the laws of harmony and love.

IL REGALO DELLA GIGANTESSA
Guia Risari, ill. B. Martín Terceño
Buk Buk, Trapani, 2015
(ISBN 978-88-98065-10-3, pp. 48, € 16,00)

O PRESENTE DA GIGANTA
Guia Risari, ill. B. Martín Terceño
MOV palavras, Barueri, 2015
(ISBN 978-85-68590-21-8, pp. 48, R$ 52,00)
---
LE PETIT CHAPERON BLEU
Guia Risari, ill. C. Pollet
Éditions Le baron perché, Paris, 2012
(ISBN 978-2-36080-054-4, pp. 40, € 15,90)
Out of stock

A dark forest, a rather boring grandmother, a little red cape...Red? No, blue!
This book tells the story of a unique wolf and a very special little riding hood.
Lively and brave, the girl does not listen to any kind of story and challenges her companion to a special kind of game...
A modern and amazing version of the famous tale.

CAPERUCITA AZUL
(South America and USA in Spanish)
Ediciones Castillo, S.A de C.V., Mexico, 2013
(ISBN 978-6-07463-930-8, pp. 35, $110,00)
---
GLI OCCHIALI FANTASTICI
Guia Risari, ill. S. Rea
Panini, Modena, 2010
(ISBN 9788857001760, Le due lune a Colori, pp. 48, € 6,20)

Lucio is a strange child. He sees things that do not exist: martians, people who are waiting for the bus without moving, giant chickens. Is he just very imaginative or is there something else? The encounter with a "great magician" with a white gown and strange tools will change his life. The glasses the man will give him are extraordinary and allow Lucio to see things never seen.
A funny story to compare different points of view.
---
LA CODA CANTERINA
Guia Risari, ill. V. Lopíz
Topipittori, Milano, 2010
(ISBN 8889210486, pp. 32, € 14)

And if one morning you woke up with a tail singing nostalgic Russian songs, what would you do? Would you call the firefighters? Or the baker? The tobacconist? Or the butcher? The undertaker? Or even the mayor? That's what happens in a tiny village, « so small that its name was bigger that the village », when Ivan wakes up with a « beautiful, long, strong and mint » tail which doesn't stay quiet a second, but sings and dances... Mad of joy, the singing tail will rush the procession of adults in an unexpected wandering that is going to make everybody dazed, happy and a bit wiser.
---
FILASTROCCA DEI SEI SENSI and L'ODE DELL'ACCIUGA
Copyright © Guia Risari 2005
in Le più belle filastrocche di tutti i tempi
collected by Davide Bregola, Liberamente Editore, Siena, 2009
(ISBN 88-6311-105-7, pp. 172, € 9,90)

An extraordinary collection of the most beautiful nursery rhymes ever. Rhymes of great writers and contemporary poets, rhymes taken from the folk tradition, dialectal rhymes and, at the end, a "workshop" to create funny and fantastic rhymes.
---
IL CAVALIERE CHE PESTÒ LA CODA AL DRAGO
Guia Risari, ill. I. Urbinati
EDT-Giralangolo, Torino, 2008
(ISBN 8860403480, pp. 32, € 11)

A knight who studied the stories of dragons from all over the world leaves in search of a frightening monster he read about in books. A dragon who apparently is used to frying in a pan whoever dares to tread on his tail. But, at the end of the journey, the knight discovers that things are not exactly like that.
---
AQUILES EL PUNTITO (Castilian)
Guia Risari, ill. M. Taeger
Kalandraka, Pontevedra, 2006
(ISBN 84-96388-35-2, Libros para soñar, pp. 40, € 15)



Aquiles el puntito is a formation tale: a little dot was born on a white sheet and sets off on an exploration which is at the same time a growing process. (Guia Risari)

ACHILLE IL PUNTINO (Italian)
Kalandraka Italia, Firenze, 2008
(ISBN 978-88-95933-03-0, Libri per sognare, pp. 40, € 15)

AQUILES O PUNTIÑO (Galician)
translated by Xosé Ballesteros
Kalandraka, Pontevedra, 2006
(ISBN 84-8464-568-1, MareMar, pp. 40, € 15)

AQUIL·LES EL PUNTET (Catalan)
translated by Joao Barahona
Kalandraka-Hipòtesi, Pontevedra-Barcelona, 2006
(ISBN 84-934380-0-6, pp. 40, € 15)

AQUILES O PONTINHO (Portuguese)
translated by Elisabete Ramos
Kalandraka Portugal, Lisboa, 2008
(ISBN 978-972-8781-84-2, pp. 40, € 15)

작은

점

하나 (Korean)
Hansol Education, Seoul, 2008
(ISBN 9788953558960, pp.40, 원 9500)

---
LA MACCHINA DI CELESTINO
Guia Risari, ill. C. Mariniello
Lapis, Roma, 2006
(ISBN 88-7874-014-4, I due per due, pp. 24, € 11,00)

The traffic in town is grey and chaotic. But Celestino has a wonderful idea: to paint his car turquoise to cheer up the congested streets. However, turquoise is not a neutral colour. Soon Celestino's car transforms itself into something else. Birds are the first to realize it. Then flowers, fish and eventually the whole town. A funny, ecological parabola whose protagonists are an inventive man, nature and one colour.
---
PANE E ORO
Guia Risari, ill. C. Mariniello
Panini, Modena, 2004
(ISBN 88-8290647-7, Le due lune a Colori, pp. 48, € 6,20)

In a big city in the North there lived a child whose only toy was a pencil and a sheet of paper. She loved drawing, but most of all she adored the alphabet. When she happened to write a word, then strange things occurred...
---
NINO MANGIALEGNO
Copyright © Guia Risari 2003
in Parole di legno, Illustrated by Tullio Altan
Campanotto Editore, Pasian di Prato, 2002
(ISBN 88-456-0474-8, Fantasia, pp. 193, € 10)

Since the origins of mankind to the chair, the wood is the protagonist of this thematic anthology which collects authors for adults and for children. A passionate literary game to know and understand trends and characters of the best contemporary writing.